Thanks to competence and talent management, Dilaco ensures that you no longer have to worry about the ideal IT team for your company. We listen to your needs and requirements to create the ideal IT team. However, we offer more than just the best people and processes. Dilaco constantly innovates with top eco-system partners to integrate cutting-edge technology into our services. Manage your IT in the most efficient way.
A well-managed service desk offers you a strategic advantage today. Dilaco offers your company the possibility to outsource all or part of your IT infrastructure to our team of experts with a fixed contract. Based on your needs and objectives, Dilaco's IT Service Desk works to deliver smarter services, solve problems faster, boost (cost) efficiency, increase productivity and continuity of your organisation.
1
Full outsourcing of the Service Desk
2
Full support of ITIL
processes
3
Incident-, problem- &
change management
4
Release &
configuration
management
Keep up with the rapidly evolving market and keep your employees motivated by working with well-functioning devices, new technologies and fast support. Dilaco technicians are always at your disposal to carry out hardware and software repairs, as well as continuous optimization and organised management of your workshop.
Dilaco has a fleet of highly qualified System Engineers who carry out hardware and software interventions with you on a daily basis (Break and Fix services, IMACD activities or Smart Hands On-Site). We also work with partners who guarantee the daily delivery of packages and small technical interventions. The technical teams are trained and certified so that they always have the highest level of expertise in the latest technologies. This is a quality guarantee for you.
2
Walk-in technical
assistance
3
Help for your
company-owned
devices
4
No phone calls,
no need to wait
IT service management tools are important for infrastructure and operational organisations to deliver IT services. Dilaco uses ServiceNow to optimise productivity and transform IT across the enterprise into a unified platform. ServiceNow delivers digital workflows that create great experiences and improve efficiency for employees and the organization. We simplify the complexity of work on a single enterprise cloud platform.
Discover 2 Of Our "As A Service" Solutions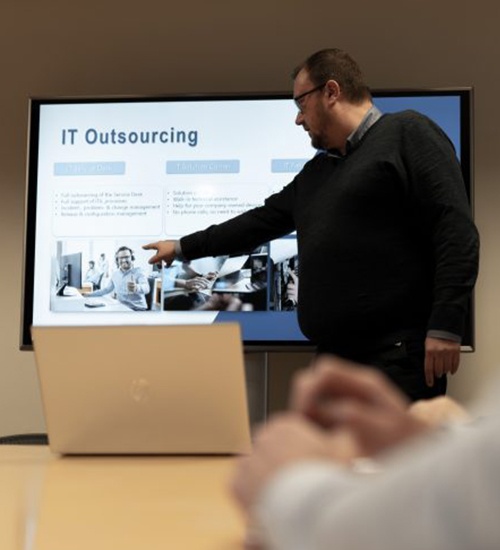 Dilaco Knowledge Management
Dilaco Knowledge Management increases the accessibility of your organizational objectives by collecting the knowledge and information within your company. Companies are increasingly evolving towards a culture in which knowledge is exchanged and towards the updating of knowledge in order to remain relevant. Powerful workflow and publishing tools thus contribute to performance improvement, competitive advantage, innovation, satisfaction and lower service costs.
Dilaco Chatbot: virtual agent
Chatbots increase business efficiency through 24/7 automated support, reduce the workload, focus your employees on the more complex questions and reduce your costs. Together with you, Dilaco defines the strategic business goals you want to achieve with a chatbot. Our Chatbot Developers, also known as back-end developers, then get down to work to develop a chatbot that is user-friendly and can also be managed by you.
Infrastructure management
The main purpose of your IT infrastructure is to minimize downtime and maintain business productivity. In order to achieve this, Dilaco's experts assist you in providing structure and control of diverse technical operations, in both physical and virtual environments.
Helpdesk and technical services
Software Management comes with a cost. Application packaging can help you reduce these costs by streamlining software configuration and deployment. Dilaco delivers specialists to assist you managing growing software volumes for desktops and server systems efficiently.
Dilaco cooperates with partners such as Econocom, IBM, LIIA, etc. in order to guarantee the best quality to you. Working with such large companies allows us to focus on customers or projects with supporting activities for the workplace, infrastructure and digital services within your company.
Get to know our ICT-topics, interesting for any company. Below, we summarise the most relevant and latest ICT facts.