Full-time, Permanent contract
Regio: Nederland
Contract: Vast contract
Uurrooster: Full-time
Taal: NL & EN
Voor onze Business Unit Consultancy in Nederland zijn wij op zoek naar een uitbreiding van ons huidige team in de detachering. Dilaco is al meer dan 25 jaar een begrip op het gebied van Werkplekbeheer en Consultancy, waarbij we opdrachten vervullen voor grote opdrachtgevers in verschillende sectoren.
Functieomschrijving
Als System Engineer ben je verantwoordelijk voor het up-to-date houden van de (virtuele) server infrastructuur van onze opdrachtgevers. Binnen deze functie heb je een signalerende/adviserende rol naar opdrachtgevers. Je denkt niet in problemen maar in oplossingen en je hebt ruime kennis van het Windows en Windows Server OS.
Werken bij Dilaco
Als je op zoek bent naar een klassieke detacheerder die alleen maar met profielen schuift, dan ben je bij ons aan het verkeerde adres. Bij Dilaco besteden we veel aandacht aan de relatie met onze consultants, zowel collega's onderling als met het bedrijf. Dit doen we door de lijnen kort en de deur altijd open te houden. Uiteraard ben je altijd welkom om een thuiswerkdag bij ons op het hoofdkantoor in Den Bosch te werken, zoals een aantal collega's structureel doen! Door regelmatig leuke uitjes, kennissessies en events te plannen zorgen we ervoor dat je je echt onderdeel voelt van deze gezellige groep.
Daarnaast bieden we jou de mogelijkheid om te ontwikkelen in de richting die jij wil. Dit doen we onder andere door toegang te bieden tot online leeromgevingen, klassikale trainingen/cursussen of interne opleidingstrajecten. Periodiek wordt er samen met jou besproken wat jouw wensen zijn en hoe je concreet daarmee aan de slag kunt, zo sta je bij ons nooit stil.
Wat verwachten we van jou?
• Je hebt minimaal MBO+ werk- en denkniveau
• Je hebt minimaal 2 jaar werkervaring als System Engineer
• Je neemt mee diepgaande kennis van Microsoft Client Besturingssystemen zoals Windows 10 en 11
• Je neemt mee diepgaande kennis van Microsoft Server Besturingssystemen zoals Windows Server 2012/2016/2019/2022 en bijhorende onderdelen zoals Active Directory etc.
• Je hebt kennis en/of ervaring van ITIL, Agile en/of andere projectmanagement methodes
• Je hebt aantoonbare ervaring met Virtualisatie platformen. VMware en/of Citrix Hypervisor is een pré
• Je hebt aantoonbare ervaring met Cloud oplossingen. Azure is een pré;
• Kennis van één of meer scripting-/programmeertalen. Powershell is een pré
• Je bent in het bezit of bereid tot het op korte termijn behalen van de Microsoft Certificering: AZ-104 Azure Administrator Associate
• Je beheert infrastructuur waarin Intune, Powershell en Office/Microsoft 365 centraal staan
• Je ondersteunt je collega's en staat klaar om hen te assisteren, zelfs wanneer er incidenteel gevraagd wordt om direct contact te hebben met gebruikers
• Je onderhoudt contact met externe leveranciers en zorgt voor een goede afstemming
• Je denkt analytisch en probleemoplossend
• Je maakt snel kennis eigen
• Je hebt een uitstekende beheersing van de Nederlandse en Engelse taal;
• Je bent communicatief vaardig
• Je kunt individueel en onder druk presteren
• Je bent georganiseerd
• Je bent representatief
• Je bent in het bezit van een rijbewijs (B)
Wat bieden wij jou?
• Variërende en uitdagende opdrachten
• Een werkweek op basis van 36 of 40 uur
• Goede balans tussen op locatie en thuis werken
• Trainingen en certificeringen, afgestemd op jouw wensen
• Doorgroeimogelijkheden
• Een salaris tussen €3.000,- en €4.000,- afhankelijk van kennis en ervaring (o.b.v. 40 uur)
• Een lucratieve bonusregeling
• 8% vakantietoeslag
• Auto van de zaak of mobiliteitsbudget
• 25 vakantiedagen + verzuimbonus van twee extra dagen
• Hardware en thuiswerkplek-budget
• Meerdere werk gerelateerd evenementen per jaar
• Meerdere leuke Dilaco feestjes/evenementen per jaar
• Een hecht team met een informele werksfeer
Wil je deel uitmaken van een bedrijf dat toekomstgerichte groeikansen biedt? Solliciteer nu en help ons om het beste IT-talent te vinden en te ontwikkelen!
Wil je graag solliciteren of heb je nog een vraag? Melissa & Gaëlle staan voor je klaar!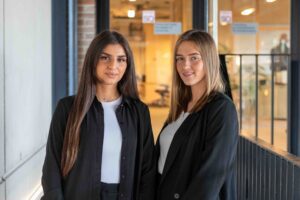 Als recruiter bij Dilaco proberen we altijd een goede oplossing te vinden voor elke kandidaat. Dat resulteert in een leuke job met een mix aan uitdagingen, menselijk contact én plezier. Elke dag krijgen wij de kans binnen Dilaco om te evolueren en te groeien, en diezelfde kans willen we aan de kandidaten geven.
Laat van je horen, we maken er samen het beste van!