Freelance, Full-time, Permanent contract
Regio: Nederland
Contract: Freelance of Vast contract
Uurrooster: Full-time
Taal: NL
Ben jij een ervaren en gedreven Talent Acquisition Specialist met een passie voor rekrutering? Bij Dilaco Nederland zoeken we een Senior Talent Acquisition Specialist om ons team te versterken. Jij bent de sleutelfiguur in het vinden van uitzonderlijk IT-talent en het bouwen aan ons dreamteam. Lees verder en ontdek hoe jij het verschil kan maken bij Dilaco!
Functie en Verantwoordelijkheden
In deze rol ben je verantwoordelijk voor het volledige rekruteringsproces. Dit omvat het opstellen van vacatureteksten, het plaatsen van jobadvertenties, het proactief zoeken naar nieuwe talenten via diverse kanalen en het voeren van gesprekken en interviews. Jouw focus ligt op proactieve rekrutering, wat betekent dat je ook talenten kunt aannemen, zelfs als er geen directe openstaande vacature is bij onze klanten. We geven graag ruimte aan onze consultants om zich in te werken terwijl we op zoek gaan naar een geschikte plaats voor hen binnen ons netwerk aan klanten.
Verwachte kwalificaties
• Sterke communicatieve vaardigheden, met een nadruk op eerlijkheid, transparantie en respect.
• Open van geest en goed in samenwerken binnen een team.
• Bewezen track record in rekrutering, bij voorkeur binnen de ICT-sector, of aantoonbare affiniteit met de IT-sector en -functies.
• Ervaring in het benaderen van kandidaten van verschillende generaties via diverse kanalen.
• Vloeiend in het Nederlands, zowel mondeling als schriftelijk.
Wat bieden wij?
Een freelance contract of een voltijds contract met onderstaande voordelen:
• Auto & tankkaart voor dagelijks gebruik
• 25 vakantiedagen om op te laden
• Aantrekkelijke bonusregeling gebaseerd op je prestaties
• Hybride werkstructuur en flexibiliteit
• Opleidingsmogelijkheden om jezelf te blijven ontwikkelen
• Pensioenregeling voor jouw toekomstige zekerheid
• Een moderne en comfortabele werkplek
• Budget voor hardware & inrichting van je thuiswerkplek
• Leuke collega's en regelmatige bedrijfsuitjes om te ontspannen
• Een competitief salaris afhankelijk van kennis en ervaring
Werken bij Dilaco
Bij Dilaco ben je niet zomaar een werknemer; je maakt deel uit van een inspirerend team en een diverse cultuur. We hechten veel waarde aan de relatie met onze consultants en organiseren regelmatig evenementen om elkaar beter te leren kennen. Onze deur staat altijd open voor vragen en opmerkingen, en we staan klaar om je te ondersteunen.
Bovendien investeren we in jouw professionele en persoonlijke groei door toegang te bieden tot online opleidingen en certificeringen in specifieke vakgebieden. Jouw ontwikkeling staat bij ons centraal!
Wil je deel uitmaken van een bedrijf dat toekomstgerichte groeikansen biedt? Solliciteer nu en help ons om het beste IT-talent te vinden en te ontwikkelen!
Wil je graag solliciteren of heb je nog een vraag? Gaëlle & Amal staan voor je klaar!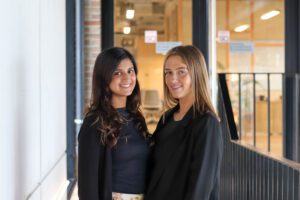 Als recruiter bij Dilaco proberen we altijd een goede oplossing te vinden voor elke kandidaat. Dat resulteert in een leuke job met een mix aan uitdagingen, menselijk contact én plezier. Elke dag krijgen wij de kans binnen Dilaco om te evolueren en te groeien, en diezelfde kans willen we aan de kandidaten geven.
Laat van je horen, we maken er samen het beste van!