Region: Zaventem
Schedule: Part-time
Language: NL + FR
We are looking for a prevention advisor to provide their services half day per week.
Job description
As a prevention advisor, you monitor over the health surveillance of employees. Moreover, you play an active role in:
• Participating in identifying hazards and advising on the risk analysis, global prevention plan and annual action plan;
• Participating in the investigation of the causes of work accidents;
• Giving advice on the various topics related to the whole codex on well-being at work, including working with third parties;
• Giving advice on the drafting of instructions, on information, reception and training of workers;
• Being available to those present in the company for all questions relating to the application of the legislation;
• Participating in the application of the measures to be taken in case of serious and immediate danger, the elaboration of internal emergency procedures and the organization of first aid.
Working at Dilaco
At Dilaco, you are not just another employee; you are part of an inspiring team and a diverse culture. We value relationships with our consultants and regularly organise events to get to know each other better. Our door is always open for questions and comments, and we are ready to support you.
Moreover, we invest in your professional and personal growth by offering access to online training courses and certifications in specific fields. Your development is our focus!
What do we expect from you?
• You are fluent in both Dutch and French;
• You have a proactive and problem-solving attitude;
• You have excellent communication skills;
• You can work independently.
What do we offer you?
You will receive a nice training, that will allow you to:
• acquire a basic knowledge of well-being and safety at work;
• be completely up-to-date with the latest topics and legislation;
• get useful tips and tools;
• exchange practical experiences with colleagues.
Would you like to apply or do you have another question? Melissa & Gaëlle are at your disposal!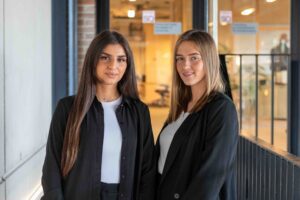 As a recruiter at Dilaco, we always try to find a good solution for each candidate. This results in a fun job with a mix of challenges, human contact and fun. Every day we get the opportunity within Dilaco to evolve and grow, and we want to give the same opportunity to the candidates.
Let us hear from you, we will make the best of it together!